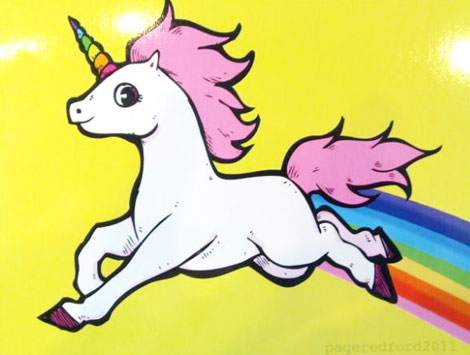 I have been back into swap-bot lately, but my rule is never to join swaps to "get rid" of postcards; only join swaps with postcards featured that I'd really want to receive. Since I haven't seen all that many themed swaps with postcards I'd like to swap, I figured I'd just start hosting 'em. It's summertime, and I have a little bit of extra time to do it...
So - UNICORNS!
Come join the
Unicorn postcard swap
I'm hosting on
Swap-Bot
. It's an international swap with one partner, so you send one unicorn postcard to another swapper anywhere in the world. Full details on
the unicorn swap page
. I got lucky, I guess, because one of the Swap-Bot administrators decided she liked the swap idea, and it's now a
featured swap
on the
Swap-bot blog
.
If this unicorn postcard makes you plotz the way it does me, you can get one of your very own from the fabulous etsy seller
Pagey of Pink Toes Press
. I admit, I did buy her
unicorn postcards
, and may be using them for this swap.
Swap deadline to join is July 2, so don't delay! (If this one is popular, I'll certainly host another.)